My early Buddhist theme paintings conveyed human suffering in the earthly life. In Buddhist philosophy, the physical world is perceived to exist only as a result of human consciousness. Through the conscious, feelings and desires constantly disturb one's peace of mind. As a result, people are conditioned by their vulnerable human natures and deluded by sensory illusions. Therefore, human beings are destined to suffer in a grievous world. The Diamond Sutra notes: "Everything that is phenomenal is like a dream, hallucination, bubble, or shadow. It is like dew and lightning. One should always see it as such." However, before we wake up from this dream, or detach from this sensory mirage, life still goes on, and human suffering cycles.
In recent years, I worked on a new Buddhist series related to the imaginative Buddha Land. In summer 2004, I visited the Longmen Caves and Binglinsi Caves in China where I observed monumental Buddhist carvings, as well as the Mogao grottoes (wherein 492 caves house more than 45,000 square meters of wall paintings and 2,415 colored stucco sculptures). The Buddhist art of the Mogao temple (also known as Dunhuang art) was created between the 4th and 14th century. Dunhuang, a trading oasis on the Silk Road situated in the Gobi desert and the beginning and the ending points of a perilous long journey, received countless caravans during its heydays. Stopping by at the temple of Mogao, survivors from the west gave gratitude to Buddha, while travelers from the east prayed for safety in the face of an unpredictable future. The impermanency of life was deeply perceived here. Through art, the perpetual Buddha lands were visualized to console the earthly hearts. I have drawn my inspiration from Dunhuang art since my undergraduate years in Taiwan. Dunhuang, wherein the Western and Eastern cultures met in the medieval era, has a symbolic meaning to me.

After the trip to Dunhuang, my life was deeply impacted by death and birth. I lost my mother, when I was four month pregnant. In the last week of my mother's life, I recovered a copy of Five Sutras of the Pure Land in storage. Through reading the sutras, I envisaged the afterlife paradise of bliss—a world constructed with the seven treasures: gold, silver, lapis lazuli, crystal, agate, ruby, and cornelian. When I described my vision to my mother, I saw vivacity in her eyes. Though she could neither speak nor move her paralyzed body, I believed that she finally felt free from her carnal form, which had caused continual pain and agony during the last three years of her life. In the transition from death to birth (see my painting, Death & Birth: Road to the Western Pure Land), I experienced the passing of my suffering mother with sorrow, while anticipating my baby's new life with joy. Without closure, I stood alone on the divide between the ephemeral and eternity (see my painting, In Front of the Barrier between Life and Death). My recent Buddhist series conveys a lingering in between the two worlds.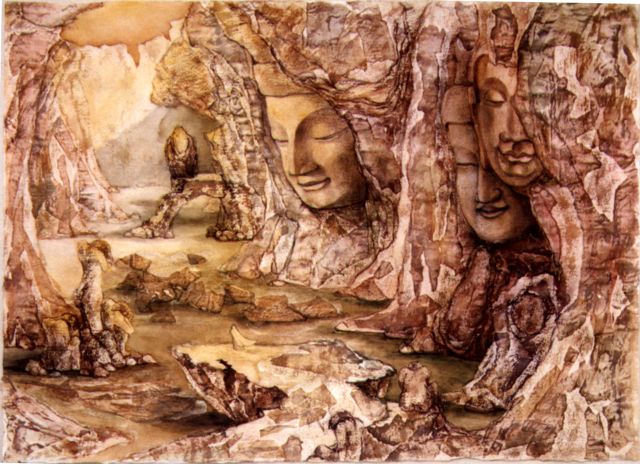 Grievous Life, 1995, mixed media on paper, 22" x 30"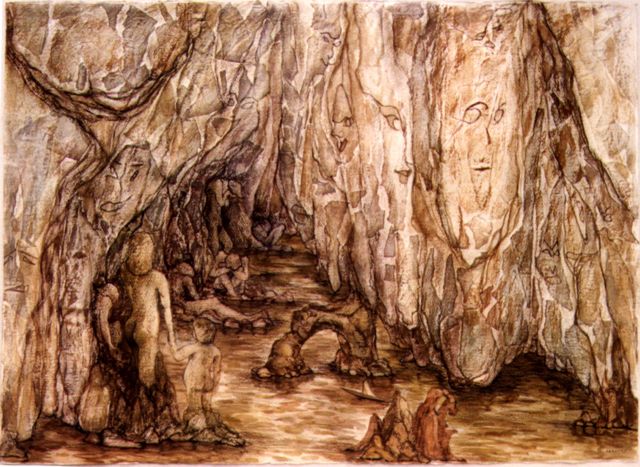 Life Voyage, 1995, mixed media on paper, 22" x 30"
A Vanished World
, 1995, mixed media on paper, 22" x 30"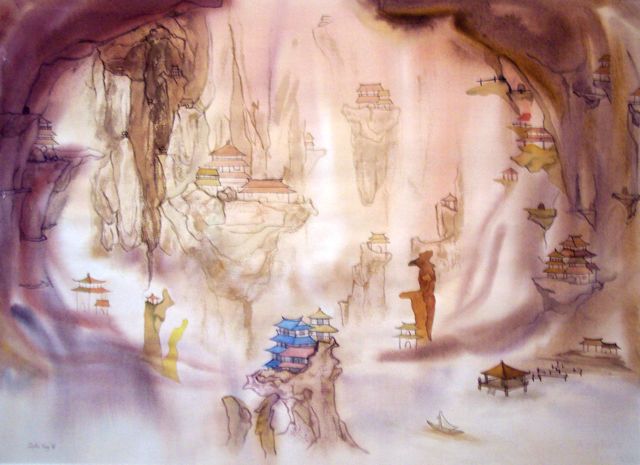 Endless Journey, 1995, mixed media on paper, 22" x 30"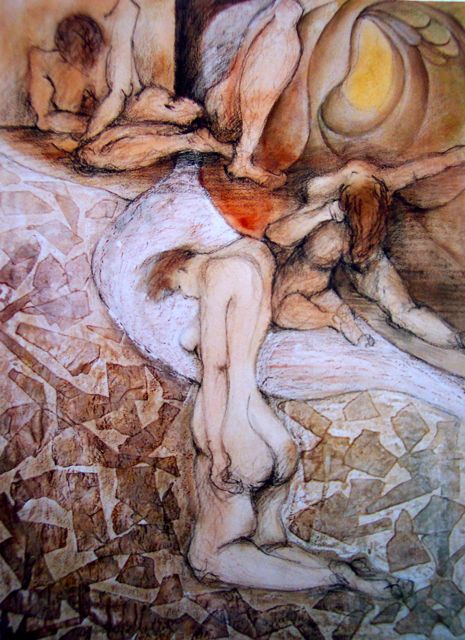 Struggle
, 1995, mixed media on paper, 30" x 22"
Standing in the Wind, 1999, mixed media on paper, 30" x 22"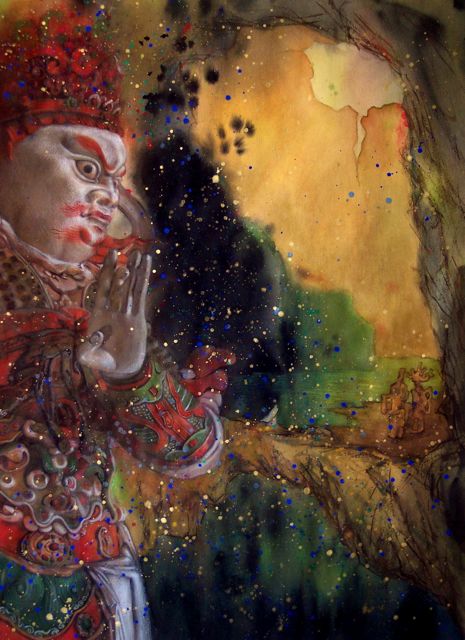 Cave Guardian, 2004, mixed media on paper, 30" x 22"
Celestial Father & Earth Mother
, 2004, mixed media on paper, 30" x 22"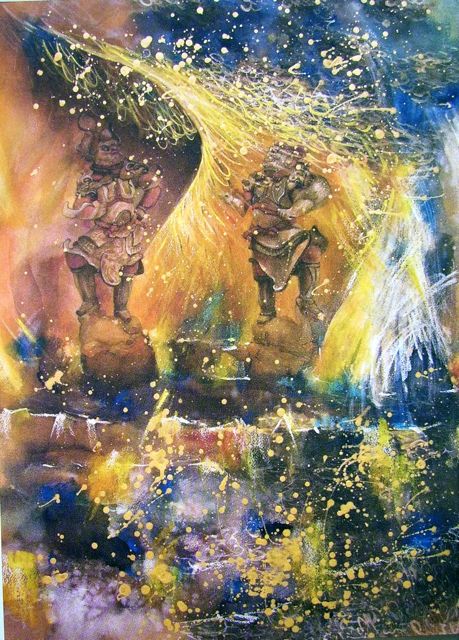 Death & Birth: Road to the Western Pure Land
, 2006, Mixed-Media on paper,
30" x 22"
Reborn in the Western Pure Land
, 2006, Mixed-Media on paper,
30" x 22"
In front of the barrier between life and death
,
2008, mixed media on paper, 30" x 22"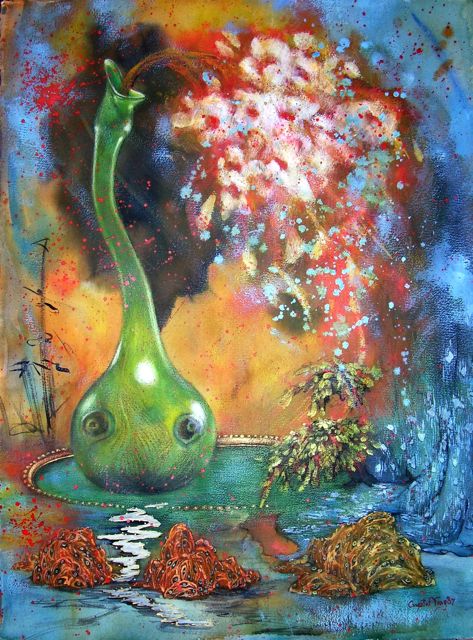 Metempsychosis I, 2007, mixed media on paper, 30" x 22"
Metempsychosis II
, 2009, mixed media on paper, 30" x 22"